Diverse Bande Musicali Internazionali confermano la loro partecipazione alla edizione 2019 della Parata di Roma
We are delighted to announce Amaseno Marching Band & Thousand Oaks Marching Band for Rome Parade 2019!
Gadsen Elementary School District 32 Marching Band
The Gadsen Elementary School District 32 Marching Band is from San Luis, Arizona, which is located in the Southwest corner of the State on the boarder of San Luis, Rio Colorado, Mexico. Approximately ninety nine percent of the student population is of Hispanic ethnicity. This Marching Band has been highly recognised as both state and local levels; along with being awarded numerous first place trophies. They are the pride and joy of San Luis, Arizona. The Gadsen Elementary School District 32 Marching Band has participated in the Twenty-Seventh Annual New Year's Day Parade and  Festival in London, England on January 1, 2013.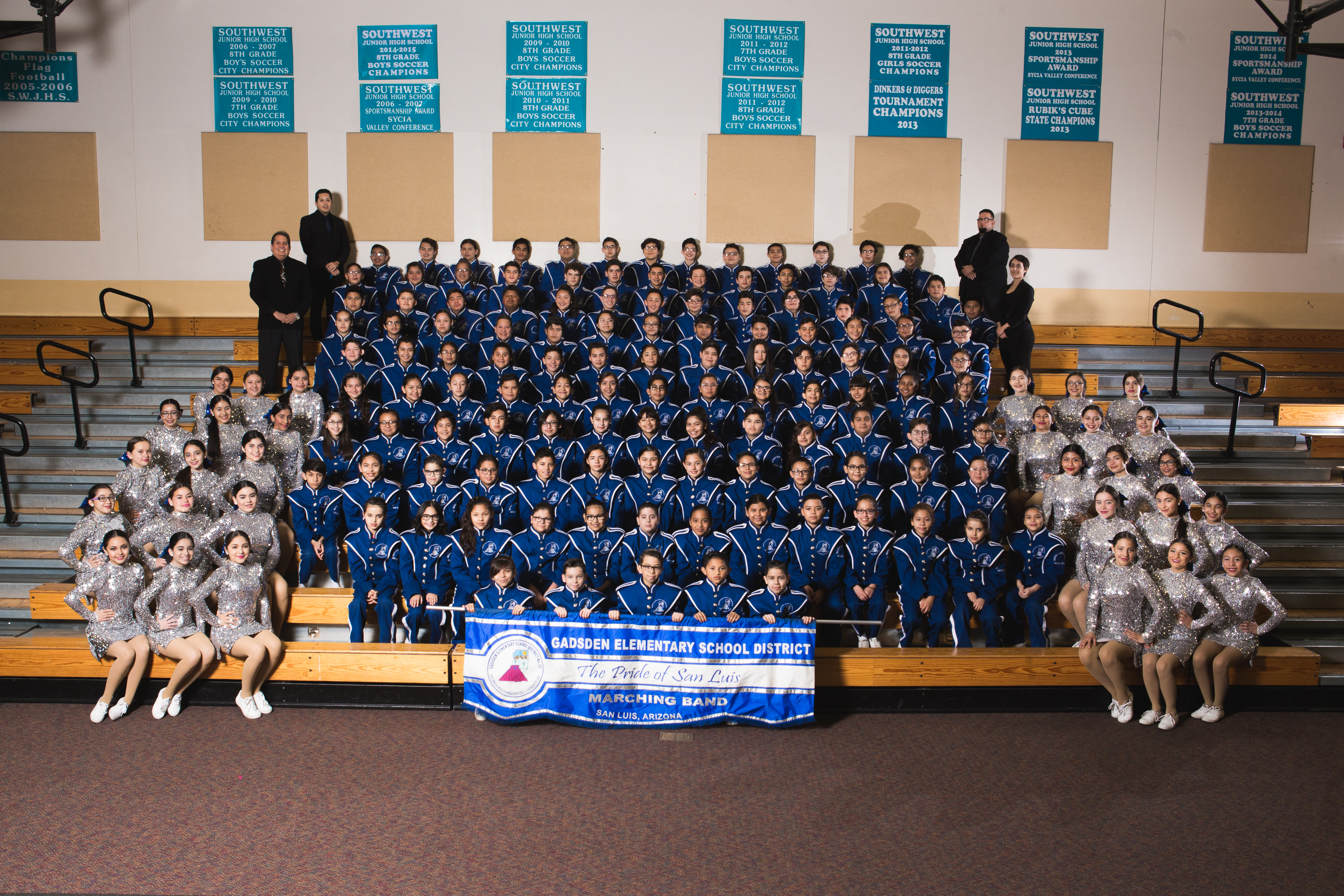 Amaseno Harmony Show Band 
Dal 2005 la banda inizio a fare i primi passi nel mondo delle Marching Band. Il repertorio musicale della Banda si è sempre differenziato da quello delle bande tradizionali, e continua ad ispirarsi alle Bande Musicali delle Scuole Americane sia nella scelta degli strumenti musicali che dei costumi.
Grazie alla particolare formazione dei suoi musicisti, che eccelgono tanto nella Parate che nei Concerti , la banda riesce, ad eseguire brani di ogni genere musicale con arrangiamenti raffinati e di grande impatto sonoro. La loro trasformazione in una Marching Band è stata raggiunta grazie ai consigli di persone esperte facenti parte delle Marching Band professioniste italiane e di oltre oceano. Un particolare ringraziamento deve essere rivolto alle sezioni di Legni, Ottoni, Percussioni e alla Color Guard che con il loro costante impegno per raggiungere l'eccellenza del suono e dei movimenti riescono a dare energia e potenza alle performance della banda
Since 1986, the group has toured internationally and have participated in virtually all of the most important events in Europe. In 2009 in Kerkrade, The Netherlands, the "Amaseno Marching Band" participated for the first time at the World Championship Marching Show Bands where they reached the final stage of the competition.
Participants for the Rome New Year Parade & Festival will be announced throughout the next few months.
Stay up-to-date will all the latest news via our Twitter, Facebook & Instagram channels.